Site Under Construction!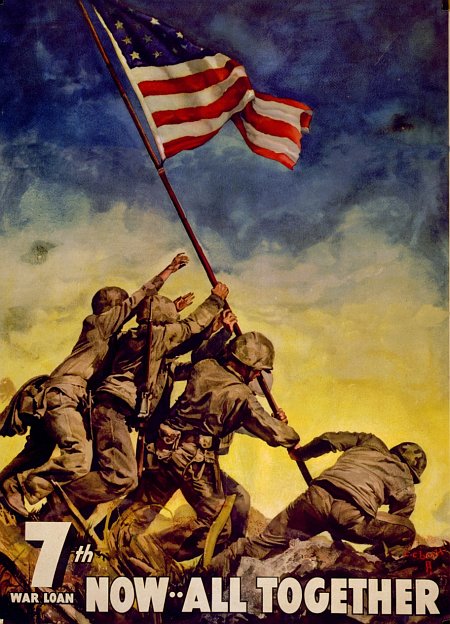 The 7th war bond was painted by C.C. Beall.

This war bond raised more than 156 billion dollars to help end WWII. It was featured throughout Clint Eastwood's film, "Flags of our Fathers".

Cecil Calvert Beall...whose works were regularly featured in Saturday Evening Post and Collier's. Beall's magazine illustrations were done in watercolor, a medium in which he excelled. His art is crisp, bold, and dramatically composed, emphasizing both starkly iconic imagery and dramatically transparent movement, often in the same image. His images of beautiful women and elegant men in action-charged contemporary life were published in both black-and-white and color, always deftly exploiting the tonal range of a given reproduction technology. In 1936, Beall painted a portrait of President Roosevelt for the cover of Collier's, one of his major clients, after which he was appointed art director for the National Democratic Committee.

During World War II, Beall continued to produce a popular series of Collier's cover illustrations depicting decorated World War II heroes, in addition to contributing war-related reportage. At the end of the war, he was one of the invited few aboard the U.S.S. Missouri to record the Japanese surrender ceremony. President Harry Truman chose Beall's painting as the official painting of the event.

He was born in Saratoga, Wyoming, studied in New York at the Pratt Institute and Art Students League with George Bridgman. His early work was in a "bold poster style in watercolor marked by a strong pattern of light and shadow, which was favored by a number of illustrators" of the Collier's magazine 'school'.

Memberships included the American Water Color Society, Hudson Valley Art Association, Salmagundi Club and Society of Illustrators, which gave C. C. Beall an exhibition Award of Excellence in 1961.

Source: Walter Reed, The Illustrator in America, 1860-2000
Artist Copyright - All works of art within this web site are protected under U.S. copyright laws and international conventions. No portion of the artists works or statements may be used, downloaded, reproduced using any means, copied, linked to, or transferred electronically, without prior written permission from the artist family.